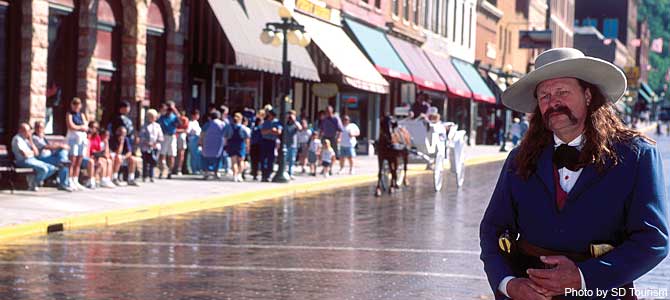 Deadwood, South Dakota, is one of the West's most famous cities. During the 1876 Gold Rush, the town sprang up from the banks of Whitewood Creek and exploded into a wild-and-wooly camp of prospectors, gamblers and fortune-seekers.
The action in Deadwood drew the likes of Wild Bill Hickok and Calamity Jane. Wild Bill's stay, however was short. He was shot in the head while playing poker at the Saloon No. 10. He died holding two pair aces and eights, forever known as the Dead Man's Hand.
Both Wild Bill and Calamity Jane are buried in Deadwood's Mount Moriah Cemetery.
Those lawless early years later became fodder for "Deadwood," the gritty and graphic HBO series. Today's Deadwood sports a different kind of excitement. In 1989: Deadwood became the first city outside of Nevada and Atlantic City to legalize gambling.
Today Deadwood's historic Main Street is now famous for its nightlife — blackjack, poker and slot machines – as well as fine restaurants, museums and old-fashioned saloons. Kevin Costner, while filming "Dances With Wolves," fell in love with Deadwood. He still owns the Midnight Star Casino on Main Street.
When the first pioneers and prospectors blazed a trail into the Black Hills in the mid-1870s, they discovered a beautiful land teeming with mountain streams, rocky crags and abundant wildlife. The splendor of the ancient mountain range so struck them that they dubbed the Black Hills an "emerald oasis," an "island of green in a sea of prairie."
Visitors to the Black Hills today can experience the same sense of discovery when they visit this pristine million-acre playground, which has remained relatively unchanged for over 125 years. An uplifted island of mountains in the middle of the roaming grasslands of the Great Plains, the Black Hills of South Dakota encompass one of the world's most ancient mountain ranges. Criss-crossed with backcountry trails, brimming with pine-clad cliffs, and dotted with clear running creeks and alpine lakes, the Black Hills are a recreation paradise, a quintessentially American visitor destination.
The Black Hills is home to the highest concentration of National Parks, Monuments and memorials in the U.S. Crowned by America's Shrine to Democracy – Mount Rushmore National Memorial – the area also claims Wind Cave National Park, Badlands National Park, Devils Tower National Monument and Jewel Cave National Monument. Other area attractions include, but are not limited to, Crazy Horse Memorial, Custer State Park, the Mammoth Site, Bear Country USA and Reptile Gardens.